Our printing houses offer you innovative labels for your products to be different.
The development of these innovations has been possible thanks to the convergence of our businesses and the complementarities of our experiences.
We offer a premium and comprehensive range of packaging items, which includes gift boxes for your most precious bottles.
Our site specialised in the design and manufacture of specific items dedicated to perfumery, cosmetics and luxurious products, is at your disposal to help you in the development of your means of olfactory communication.
INESSENS,
26 years of history serving our customers,
A common vision, a passion for packaging to enhance your products.
INESSENS, more than a printing house
Our reason for existing is to offer services beyond printing, from advice and design to technical support, including storage and retouching.
Our core business is based on innovation to anticipate market trends and offer new printing solutions and new papers in line with consumers' demands and allow our clients to stand out with 'visibly different' labels and gift boxes!

A level playing field to start, followed by fairness for all.
Respect, loyalty, horsey, integrity.
Managerial exemplarity.
Passionate employees.
Constantly self evaluate.
Being efficient to build a future
Invest & innovate constantly.
Fair sharing of benefits.
Financial independence in the interest of the stakeholders.
Make our managers shareholders.

Wines & Spirits, Food, Cosmetics & perfumery…
Find our latest creations, and our articles on our blog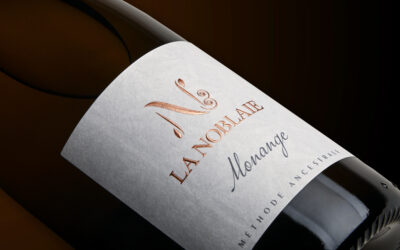 It is a fantasy initiated in 2008, the unique marriage of Chenin and Cabernet Franc offering a fine bubble and a vinous finish, that the LA NOBLAIE domain offers.This year, LA NOBLAIE offers itself a new label, and trusts Inessens, which has printed this label on an...
read more
Atelier 7 is a design agency, which will help you in the creation of your products.
Discover our
printing houses
$